The Mindfulness Based Symptom Management (MBSM), is also offered in a 5-Day Intensive format. This program is especially useful for those who are from out of the city or are unable to commit to an 8-week long program.
What is Mindfulness?
Mindfulness is a skill we all possess yet we have little or no awareness of actually using it in our daily lives. When we are aware of being mindful, we sense it as the feeling of being "on" or "in the flow" of the moment. However, more often, we slip into "automatic pilot" in our thinking, acting, and way of being with respect to others and ourselves. In such moments, if we are caught in difficult situations or complex events, we become frustrated or frightened of the many internal changes we experience.
Often these complex reactions seem to arise from innocent events or comments. We wonder how  and  why  seemingly ordinary, everyday things can derail us so easily.
Recognizing when we are on auto-­‐pilot, we learn skillful ways to detect the early signals that are found in our Body, Emotions, Sensations, and Thinking.
Mindfulness is a way of taking a more engaged stance in our relationship with our loved ones, our environment and ourselves. It promotes awareness of the changes arising in us, giving us the time to assess, accept, and encourage healthy ways of being. It is not a formula for happiness, however, through the Breath, it is a way of directing our onto a path that fosters calm and ease in the face of our challenges.
Body
Emotions
Sensations and
Thinking
Mindfulness based interventions such as MBSR, MBCT and so forth that run 8-week long programs have found to be more effective than medication management for recurrent depression.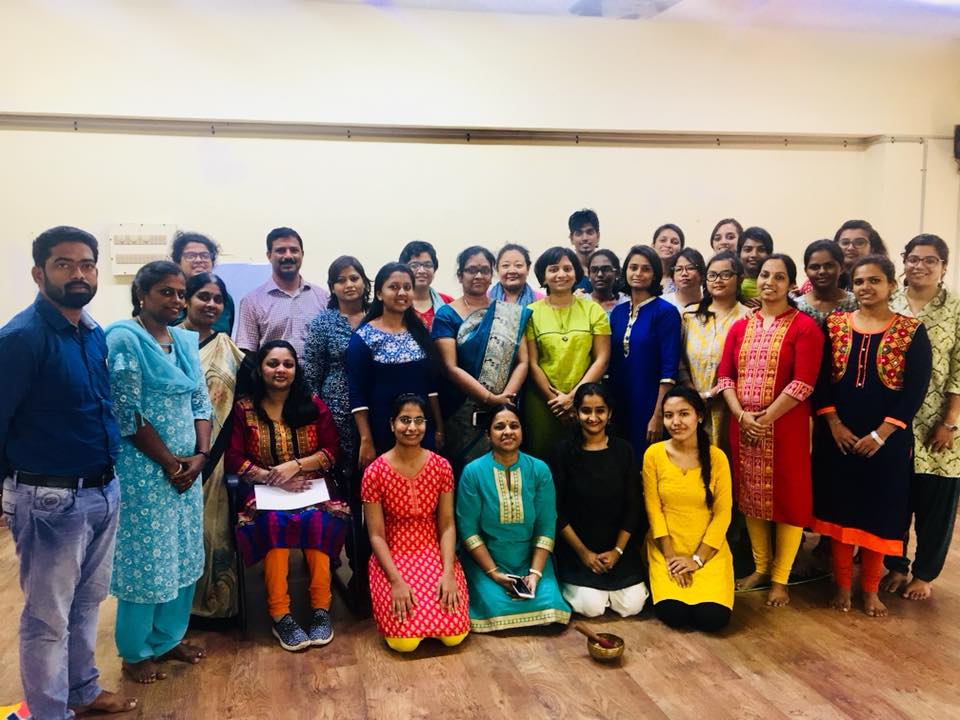 NOTE: Before you register for the program please set up an appointment with Aarathi (9490708947) to know more about the course and to see if you are a good fit for the program. The course is capped to 5-6 participants per session and based on first come first serve. So please ensure that you sign up for the program early on.
For out of city participants please ensure you have travel insurance or book refundable tickets. While we want to ensure that we lead this wonderful program, it may also be subject to cancellation with minimal prior notice.
Registration information: To learn more about the program and its contents and to register, click here.