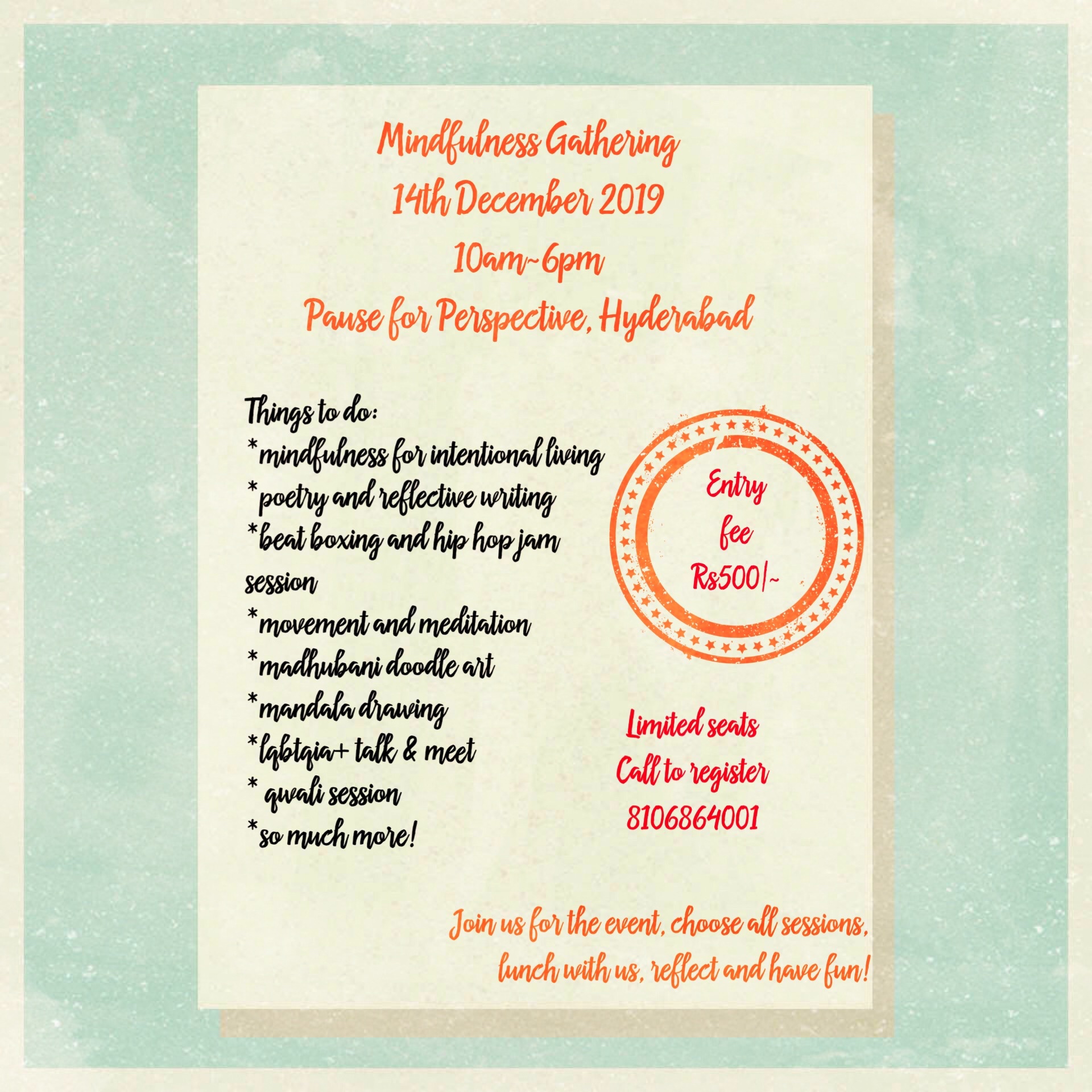 Mindfulness Gathering is a day long event at Pause for Perspective! The heart of the eavent lies in coming together as a community to celebrate our beautiful-as-it-is lives. We'll pause, contemplate and take stock of where we are at, where we are headed and who we want to be here and now.
The event starts at 10am with a key gathering and then we split into three workshops at 12pm. We come together for lunch and Qwali at 1pm and then split back into two mind blowing talks at 2pm and a choice of three workshops at 3pm after which we come back together at 5 to end our day in ceremony and conclusion.
Space for the event is limited so please register! You know you'll love it!
Mindfulness in everyday living.
An introductory session on mindful and intentional living. We will look at mindful practices that you can incorporate in day to day life to check in, slow down and be closer to your intention. If you're interested in Mindfulness and want a taste of what it means, or you're simply hoping to check in and show up for yourself, this session is for you! Time: 10.30am to 11.30am Place: Pause for Perspective, Begumpet
Mamatha a technical writer by profession and an artist by choice brings for you madhubani doodle. Art makes her slow down and connect to her deeper self. Being an introvert, she naturally embraces the power of silence and loves to express herself through art.
Deepen your mindfulness practice with age old Madhubani doodle art which is characterised by vibrant colours and detailed patterns…an amazing way to enjoy the present moment. At Pause for Perspective Begumpet. 12:00-1:00pm.
Movement and Meditation workshop by Kalpana.
This session is all about finding the stillness from within through movement. We begin by moving around the space, exploring ourselves, seeing what emerges from this experience. Slowly we shall settle into some moments of stillness where we go deep within the self.
This is for those interested in exploring within and finding answers.
Benefits are multi-fold as meditation can be for anger management, relaxation, goal orientation, spiritual enhancement and many more. Explore and identify how to meditate.
Note: Please wear loose fitting clothes for ease of movement. On 14th December, 12-1 pm. Venue: Pause for Perspective, Begumpet.
Hope Soars.
Poetry reading and reflective writing.
Take a breath and join us as the ink flows.
'Of Hope's
New and Old.
Dreams
Rusty or Gold ,
Come share with us,
What makes the heart soar.'
Join us as we share poems on Hope by famous poets and then do some guided writing on our own hope's and dreams and the stories they bring.
Facilitated by Sammy Sahni and Uzma Hyder. On 14th December, 12-1 pm. Venue: Pause for Perspective, Begumpet.
@yesweexist of FaceBook and Insta fame will be conducting a session for connecting LGBTQIA + homies and allies on the 14th December at Pause for Perspective's Mindfulness Gathering.
Mindfulness Gathering is a day long event in slowing down to introspect, reflect and revisit the year gone and the one to come. It is a celebration of connecting with yourself and others around you in ways that open our hearts and minds.
This is an hour long session. We will have conversations to look at the LGBTQIA+ present within and with out. Indrajeet of @yesweexist will facilitate discussions about better supporting each other.
Timing: 2pm-3pm
On 14th December 2019
At Pause for Perspective, Begumpet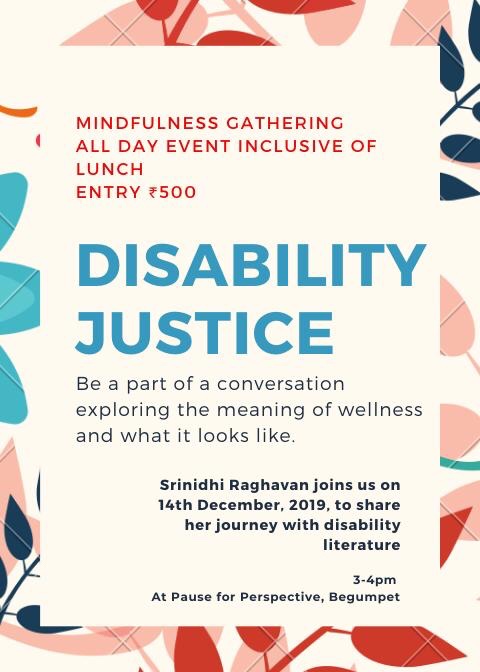 In Srinidhi's words:
"My introduction to disability literature as part of my healing journey changed my relationship with well-being and perfection.
I began to see healing and wellbeing as a journey rather than a destination where wellness was attained and illness discarded. Two books I found that had a huge impact on me were Brilliant Imperfections by Eli Clare and Care Work by Leah Lakshmi Peipzna-Samarasinha. These books challenge two core ideas at the centre of the disability movement – one of cure and perfection and the other of who deserves care and when.
I noticed that both Leah and Eli nudged me to change my language to encompassing experiences outside of the norm. They question the need for us to say "take care" or even "speedy recovery". Honestly, I have no idea what speedy or recovery looks like for me with chronic pain and fatigue. Their words made me ask: What does care look like when a person has been ill for a long time – say five to ten years? Or has a deteriorating illness? How do we reimagine care and well-being when one doesn't fit society's idea of normal or well?"
Join us at Mindfulness Gathering on 14th December,2019 to understand how wellness has been defined thus far and what finally needs to be changing.
More workshops are being added. Space is limited for this event so please register soon! Call us on +91 81068 64001 to register.
A RAP and Beatboxing jam session with Sane-Yasi and Spacetime. They will be talking about evolution of hip hop being the voice of the people and how it has transformed over the years.
Sane-Yasi will perform songs created to spread awareness around mental health and his journey of rap music.
Spacetime, the most celebrated beatboxer from Hyderabad will showcase his set and share his journey.
Followed by a basic rhyming and beatbox workshop.
Explore your mental well being through rap and music and be a part of an inspiring performance.
Venue: Pause for perspectives
Date: 14th December
Time: 4-5:00pm