To register write to pause.perspective@gmail.com or whatsapp 8106864001
Narrative practices and Mindfulness via the embodied social justice paradigm will help us guide through the gentle foraging of what's absent but implicitly present in trauma saturated stories.
 In "The Carrier Bag Theory of Fiction," Ursula K. Le Guin argues that stories of hunting and killing have allowed readers to imagine that individual heroism is the point of a story. Instead, she proposes that storytelling might pick up diverse things of meaning and value and gather them together, like a forager rather than a hunter waiting for the big kill. In this kind of storytelling, stories should never end, but rather lead to further stories. In the intellectual woodlands I have been trying to encourage, adventures lead to more adventures, and treasures lead to further treasures. When gathering mushrooms, one is not enough; finding the first encourages me to find more. 
The Mushrooms at the end of the world: On Possibilities in capitalist ruins – Anna Tsing
In this three-day workshop, we will explore:
the politics of trauma experience , navigating into landscapes of subjugated stories of response,
pay close attention to the wisdom of our bodies and breath and explore the Absent but Implicit map to develop richer stories of communities and people's know-hows in response to trauma.
We will explore the many ways in which our bodies are a site for liberation, protest and resistance and weave this knowledge with stories that are already present in our lives of our know-hows in responding to trauma.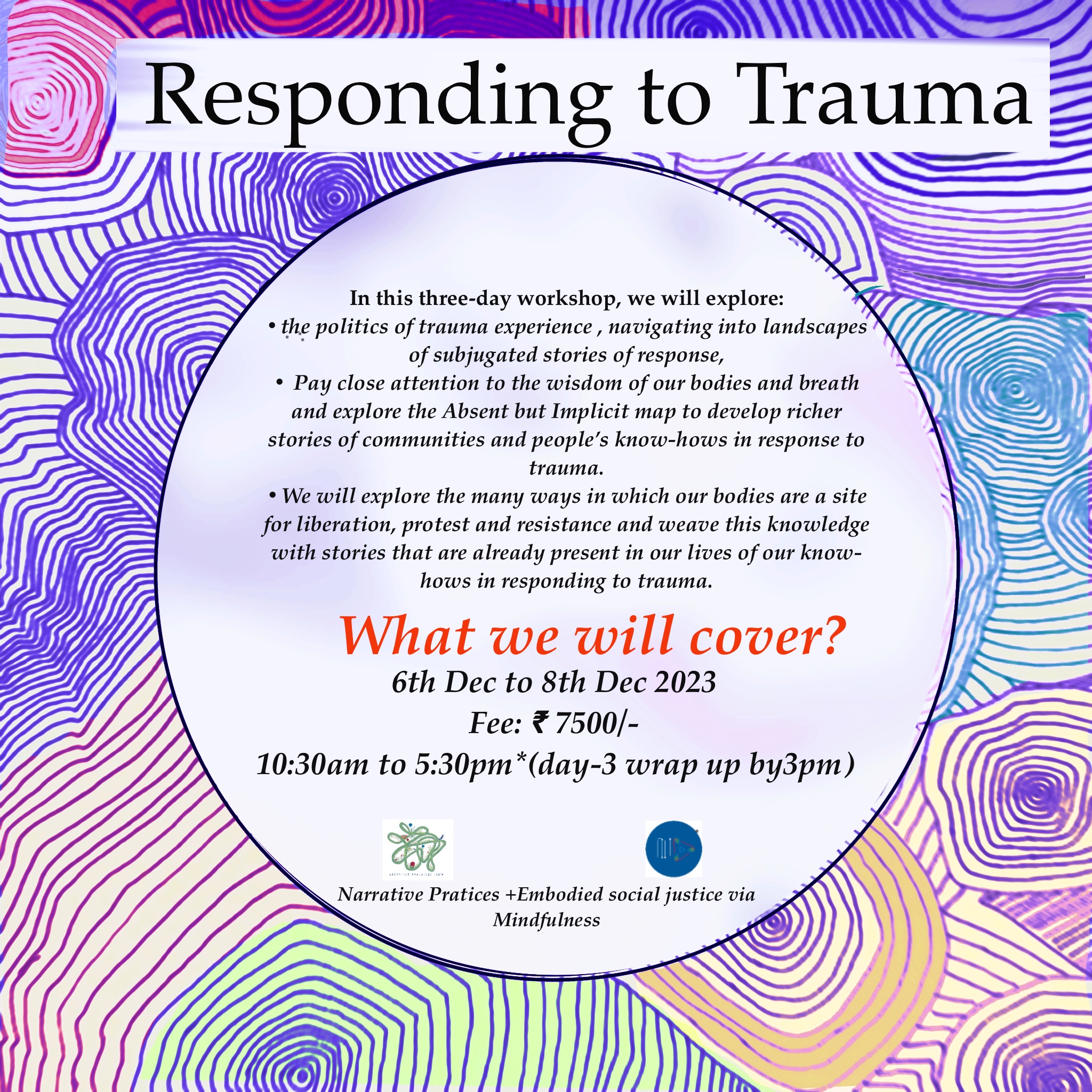 Raviraj is the cofounder of Narrative Practices India. He is an occupational therapist, children's book author, supervisor, library educator and a teacher who believes that all the problems of this world are rooted in the structural systems of oppression rather than in communities or peoples bodies and identities. His work is informed by Narrative practices, sensory integration, accountability practices, queer writings, children's books, his mother's cooking practices and his communities ways of living. 
Aarathi is the Founder and Clinical psychologist in India. She is a TEDx speaker. She is a supervisor, teacher and therapist at Pause for Perspective. She leads a team of 20+ mental health professionals. She has expertise in working with individuals, children and families , couples and organizations. She has over 15+ years of experience in the field of Mental Health. Her work is informed by principles of social justice and feminist perspectives. She integrates her trainings into Narrative and Mindfulness informed modalities. She is a faculty on several counseling programs across the country. She is a passionate mental health practitioner, teacher and supervisor.