The city I live in is different from the rest of the cities I've been to. Hyderabad is just that: different in every sense. Hyderabad is different, in a way that it's hard to explain to people what it's like to call it home. The Scottish historian William Dalrymple wrote, Hyderabad hides "its charms from the eyes of outsiders, veiling its splendors from curious eyes behind nondescript walls and labyrinthine backstreets." How do I begin to explain that the city is filled with warmth that is unlikely to be found anywhere else. Everyone's out to help each other, and if they can't provide solutions to your problems, they'll offer you chai (and lots of free advice) and seemingly, the situation gets better. There's always something to do in the city and always someone to talk to.
Here, no one will never truly feel alone because we don't allow it to happen. An air of nonchalance surrounds us as we take our time with things. And we don't have the fear of missing out on anything because we're more than happy with sitting and sipping on our irani chai. 
But Ramazan in Hyderabad is a different story altogether. 
The holy month of Ramazan is the ninth month in the Islamic Calendar. Muslims are required to fast from dawn to dusk. Sehri is the meal at dawn and iftaar is the meal at dusk (breaking the fast). This is a month of self-reflection and many Muslims devote themselves entirely to prayer and remembrance of God. 
Hyderabad's heavily Muslim influence seeps through the culture of the city. And it is seen in the way Ramazan is experienced by the people living here. It's like many residents say, 'Hawa ich alag rehti Ramazan mein.' (There's a different vibe to the city in Ramazan). The whole city operates on the different timings of Ramazan. Hyderabad is busy from Iftaar till Sehri, that is, from 7PM to 4:30AM. And after Fajr, the first prayer of the obligatory five, the city goes to sleep.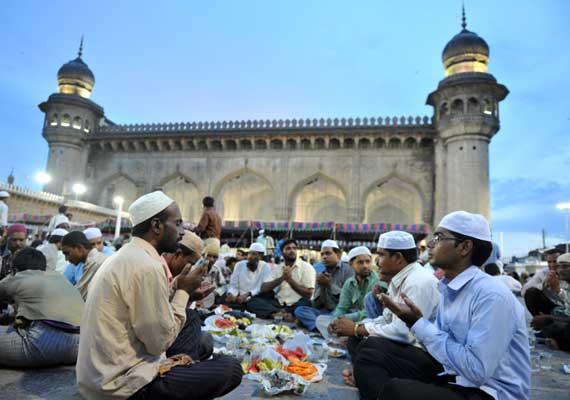 From Iftaar, the city starts to look alive. As the siren goes off, people gather themselves at Mecca Masjid in Old city and break the fast with their friends and family. After which, they offer their Maghrib prayer and move around to have chai at Nimrah Cafe near the Charminar. People gather for tea and catch up with their friends. At this point, one can clearly feel the difference in the air. The city is alive now. There's chatter everywhere. You will be called to enter shops as you walk in the lanes of old city, 
As the night wears on after the Taraweeh Prayer, old city is filled with people from different parts of the city and the locals. Every lane of old city is occupied to an extent where it's hard to find an empty spot. Ramazan is a busy month and the 'jackpot' month for businessmen and tailors. The collective amount crosses almost two thousand crores in this month. The best part about this? The rates are nominal. Keeping rates nominal means that food bazaar is accessible to everyone. 
There really is no place better to

experience

 Ramazan than Old city.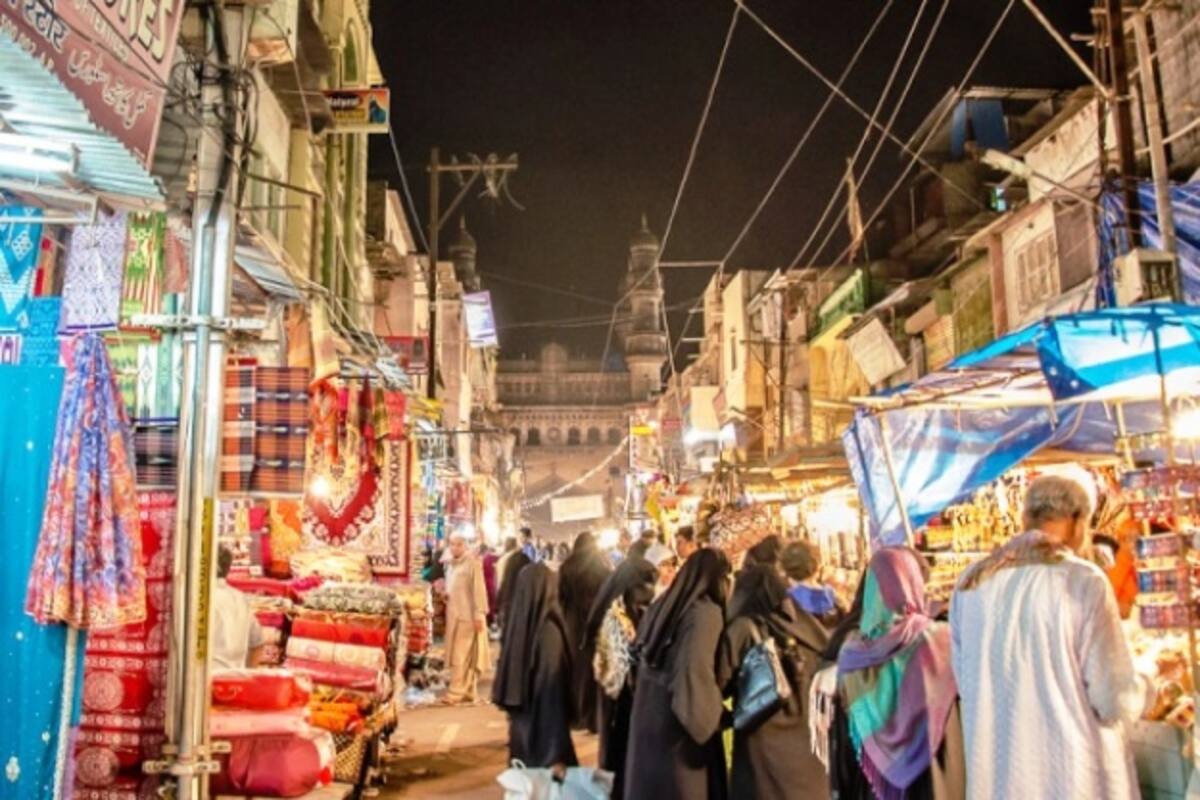 Ramazan specials in Hyderabad include: our dahi wade, patthar ka gosht (meat cooked on slab) and of course, Haleem. My mouth is watering just at the thought of these delicacies. Chefs start preparing these right before the Iftar siren goes off and it is served hot after Taraweeh prayers.
From archives, Ramazan last year.

Patthar ka Gosht is a delicacy that is home to Hyderabad. It is prepared by marinating the lamb with curd and spices and then grilling it on a hot slab.
Dahi Vada is a delicacy that is prepared by soaking vadas (made of chickpea flour or black gram) in thick curd.
But the pandemic has affected the way we celebrate it in Hyderabad.
With the lock-down being extended and a general rise in anxiety levels across the city, the Ramazan vibes have not been quite the same this year. Hyderabad is empty and businesses are suffering. But more importantly, the people are suffering. We miss the city. We miss the way this city feels during Ramazan. It is truly amazing how people come together to experience, to laugh and have food and chai with your loved ones in this month.
When asked how they feel about spending Ramazan at home, many of the residents voiced out their displeasure. Zubair Lasania, a student from Nizam College, said, "The city is something else in Ramazan. And it doesn't come often. I miss the food: patthar ka gosht and having Nimrah's irani chai and talking to people, even if I don't know them. And I miss riding out after Taraweeh and watching others do the same. I miss going to Famous at Mouzamjahi Market and seeing it overcrowded. Not being able to experience Ramazan is one thing, but being in the city and seeing pictures of empty streets of Old City and Charminar is even more heartbreaking."
Sujayendra Krishna Nellore, content producer, Zomato said, "It sucks that we have to be home during Ramazan. I miss going on long drives with my friends that somehow, inexplicably, end in Charminar where we walk the streets and eat." 
As for me, I don't go to Charminar often. But on the rare occasions that I do, I am reminded of the charm of this place, especially during Ramazan. I love drinking Nimrah's chai and laughing at how Hyderabadi men talk loudly in Dakhni about how cool they are. I love the conversations that take place over our beloved Irani chai because it is the combination that Hyderabadis truly love: chai and baat-cheet. There's nothing more quintessential about this city than that.
I am reminded of how much this place is loved and cherished by locals. Just like conversations and chai go together, people and old city make a perfect marriage.
Especially in this lockdown, it shows how we are identified by it and how we give the place its identity.
—
Omaiha Walajahi
Writer
Pause for Perspective