Stonewall Inn was located at the 51st and 53rd Christopher Street in the Greenwich Village of New York City. Stonewall Inn was one of the few gay bars that provided a space for members of the LGBTQ community and welcomed Drag Queens too. The mafia usually owned these gay bars. And usually, these mafia gangs used to pay the police to turn a blind eye to these clubs. However, in the 60s, police raids were common, especially at gay bars despite the protection from the mafia. And on June 28th, 1969, everyone thought it would be just another riot. Little did they realize how wrong they were.
At 1:20 A.M, police knocked on the door of Stonewall Inn. They arrested many people in the bar, including the mafia members and employees of the bar. This was normal. But what made the scene explosive was that a lesbian woman, Strome DeLarverie, screamed at the bystanders and said, "Why don't you do something?"
Then the violence broke out. It lasted till July 3rd, 1969.
This event led to the first Gay Pride Parade on the first anniversary of the Stonewall Rebellion and it took place on Christopher Street. The Stonewall Rebellion paved way for the LGBTQ Rights fight all over the world. And that's why June is declared as the Pride Month.
PRIDE HISTORY IN INDIA
We all know that the landmark 2018 verdict of the Supreme Court in which the clause of homosexuality of Section 377 (of the Indian Constitution) was scrapped. But before that, we have had a long history of celebrating Pride.
In 1991, AIDS Bhedbhav Virodi Andolan organisation published a pamphlet titled, "Less than Gay", a citizens' report on the discrimination faced by the community in India.
On August 11th, 1992, ABVA (AIDS Bhedbhav Virodhi Andolan) gathered at the ITO in Delhi and started a protest. It was in response to the arrests of young men on the assumption that they were homosexuals. ABVA, two years later, filed a Public Interest Litigation in the Delhi High Court. It was here first that Section 377 was challenged. But alas, it was dismissed in 2001.
In 1999, India's first ever Pride March was held in Kolkata. On the second of July, fifteen people wearing special designed yellow T-shirts. The T-shirts had a picture of footsteps with the caption, "Walk on the Rainbow." Thus spread the Pride Movement in India. Kolkata held the Pride March in 2003, 2004 and 2005 exclusively until it started gaining movement in other states. Telangana's first Pride Walk was in 2013.
It was in 2018, that the Supreme Court ruled out homosexuality from the list of crimes. And it started the bigger movement of demanding rights and legalizing same-sex marriage.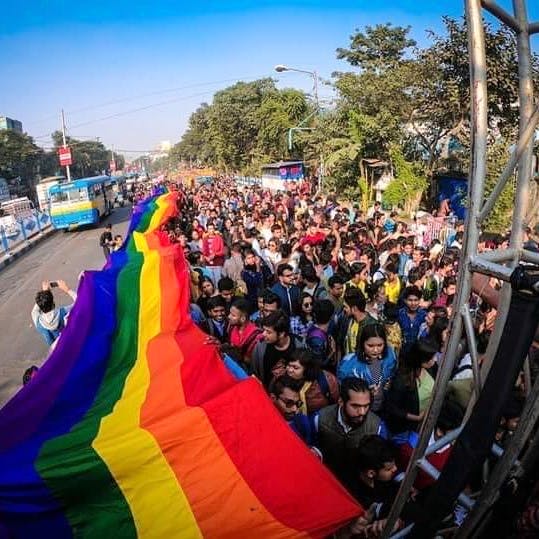 HOW TO BE A GOOD ALLY
If you identify as a cisgendered straight individual, here's how you can be a good ally for the LGBTQ+ Community.
Number One: Learn what Allyship truly means.
What does Allyship mean? Allyship comes from the genuine belief of helping those in the marginalized committees. This can only happen when you realize and fight for the equity: the true distribution of resources and opportunities regardless of gender and sexual orientation. Allyship is not just waving the Pride Flag for Instagram. It comes about when you stop someone from using transphobic slurs, when you actively engage in conversations and when you work hard to unlearn preconceived notions on your own. Allyship comes from recognizing your own privilege and using it for the greater good in society. Allyship should and must become part of the day to day vernacular.
NUMBER TWO: RECOGNIZE YOUR PRIVILEGE
The second most important aspect of allyship is to recognize one's own privilege. If you're a straight person, then you have the privilege that the community members don't. How? The LGBTQ community is still fighting the stigma that surround them. Here's where allies come in: straight allies can be the bridge between the two groups. As disheartening as it is, in certain spaces, straight people's voices are given more platform for the discussions on LGBTQ rights. Use this privilege to speak up about the issues and give pass the mic to members of the community. Recognizing your privilege means that you have these conversations with your family and friends. It means that you introspect and constantly educate yourself by reading and watching documentaries. Only when people have recognized their privilege can they use it for the good of the community.
NUMBER THREE: LISTEN
We often forget the most important rule of allyship: listening. It might sound basic but one would be surprised to know how many times people take over minority issues and appropriate it. Many Straight allies, however well-meaning they can be, often forget to give space to the voices int he community and talk about it as if they know their struggles better. During discussions in your friend circles, make sure to not talk over. Remember, you are not their leader.
NUMBER FOUR: SUPPORT LOCAL ARTISTS
With the Pride Month approaching, a lot of brands will engage in what is called Rainbow Capitalism. These brands show 'performative wokeness' to appeal to the public. This helps them raise their sales during this month. But be careful, these organizations and brands do not care about the struggles of the queer community and only want to profit off of it. Instead, support your local queer artists. This makes sure that your money is actually going to queer individuals instead of corporations that don't donate or advocate for equal rights. Artwork, clothes etc from queer artists are usually much cheaper and you get original art. It sounds like a better deal.
NUMBER FIVE: USE YOUR SOCIAL MEDIA FOR GOOD
The use of Social Media is a huge tool for social justice movements to gain momentum. This is the perfect time for anyone to show true allyship. Share fundraisers links, sign petitions online and share what's happening in the community on your social media. People will show interest and will spread the word. Social Media campaigns have been essential in spreading the world. Make sure to join them!
BONUS: ATTEND PRIDE!
This is probably the most fun part about the Allyship because it doesn't require much effort. Pride, in its essence, is a true celebration of one's identity and existence. When people attend prides, they are filled with a sense of hope and pure joy. I have also had many straight allies claiming that Pride is one of the most liberating experiences they have had, so be sure to attend one!
Pride Month is not just for us to celebrate but it's a month to also prove our allyship, our love for the community and the way to truly thank the queer community for the changes they have brought to the world. It's not for us to appropriate and walk over our queer friends. Pride, in fact, means ownership of one's identity.
Pride Month at Pause for Perspective is celebrated by educating people constantly and advocating for equal rights in every way possible. We are a patriarchy deconstructing and a queer affirmative organization that provides a safe space for gender non-conforming individuals and the queer community.
Further Reading:
On Identity
Bisexual Erasure
A Queer Muslim answers your Questions!
Responsibility and accountability to Queer Lives
How the Lockdown affects the Queer Community
—
Omaiha Walajahi
Writer
Pause for Perspective