Exploring mid-year journey with an art therapy activity
I started a new journey with Pause for Perspective as a fellow this month. Jumping into unknown territory, then slowly exploring and unpacking what the transition means for me; has been a constant theme for the last two years. What really holds me through this, is the alignment of values of this space with mine, peer support, and the constant learning and unlearning.
As I sit and reflect on this, taking stock of the half year that has gone by came up and I dip into what the future holds for me here also noticing how the previous months unfolded. I have been working with various expressive and creative arts in my practice and exploring that in this space with my fellow therapists from this cohort has been pretty wholesome.
This is a simple mandala activity that can be done individually or in a group. All you need is a quiet corner, some soulful music, basic art material, and maybe a hot cuppa of your favourite brew.
Mandala to explore your mid-year journey
Materials required:
Any blank paper of your choice
Art material of your choice (Some options: crayons, pastels, watercolors, acrylic paints, markers, coloured pens, pencils, images cut from magazines)
Soulful music of your choice, preferably instrumental
A compass or a round plate to draw a circle (only if you prefer a perfect circle else feel free to draw freehand too)
Fairy lights, scented candle (optional)
Procedure:
Begin by grounding yourself and by bringing your attention to your body. (Link to Soundcloud: Touch Points meditation for Grounding)
Whenever you feel ready, you can start by focusing on the paper in front of you. Slowly draw a large circle on your paper for the mandala.
Now find the center of your mandala and mark that with a dot. Taking the dot as the center, start to divide your mandala into 7 sections (like pizza slices), one for each month starting from January to July.
Now, focus on each of the months that have gone by, gently reflecting on how each month has been for you.
Now using your art materials, start to draw or write in each of the sections one by one.
Once you are done, look at the mandala in front of you and begin to reflect on these questions:
What was difficult?
What was easy?
Did anything about yourself get revealed working through this?
If you wish to explore further then you can use these questions to process:
What was the feeling like?
What do you see?
What do you think needs to be looked at right now?
What was hard?
What was easy?
Also, be easy and gentle on yourself while you do this.
Activity reflections from Pause Fellows:
Therapist #1: The activity helped me look back on the highs and the lows so far along the year. The integration of art in alignment with the progression of the year was wholesome and insightful. It helped us reflect on the learnings spread across the year from our experiences and plan how we want our days ahead to look.
Therapist #2: Seeing and reviewing the last 6 months was overwhelming and reflective. The realizations of good things, hard times, and my own resilience added to me being open and hopeful for my future. I felt like I connected my past, present, and future self and held them in this mandala. Making spaces for myself, acknowledging my learnings, and being open to more.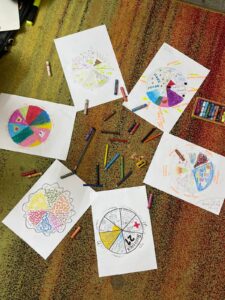 Therapist #3: Making the mandala while reflecting on the half year that has passed by helped me acknowledge the empowering moments that I had had, and made me realize that life is all about making space for chaos along with peace and our hopes. This mid-year reflection was a great way to acknowledge what has happened and also set hopes for ourselves for the upcoming months.
We, at Pause for Perspective, did this as a group activity with such a beautiful and heartfelt sharing where
we opened up and shared our journey with each other. I discovered so many parts/ sides to my colleagues while also sharing mine.
Here are a few pictures from our session together.
Hope you have a beautiful experience like us. Happy exploring!