This summer kids experienced a different kind of summer camp in Hyderabad. They indulged in different fun activities which got their creative juices flowing.
The mindfulness and art workshop for kids consisted of 8 sessions, through which they laughed, enjoyed and learned a lot of new things about themselves. The kids had fun doing a lot of creative stuff which allowed their imagination to run wild and they learnt about being mindful and its importance in their everyday life.  They had learned to appreciate all the little things which we often take for granted.
We started the first session with making the children aware of their inner world consisting of feelings, attitudes and body sensations. In the neat session the children learned relaxation exercises and understood a little more about their feelings. In the third session they learned to explore their relationships with others through journaling. In the next session, children learnt how to handle stress in a better way and being aware of the world around them. The next session consisted of children learning about the importance of emotions and knowing how different emotions influence us to act in a certain way and by replacing them with some other emotion we can change the way we react to different situations. In the next session the children did exercises where they were taught to deal with their worries in a more effective manner.  In our second last session, the children indulged in activities where they learned that being kind and compassionate towards others can make a huge difference in the way others and they themselves see them. Our last session with the children included looking back on all the activities and exercises the children did and how they can integrate them in their daily lives.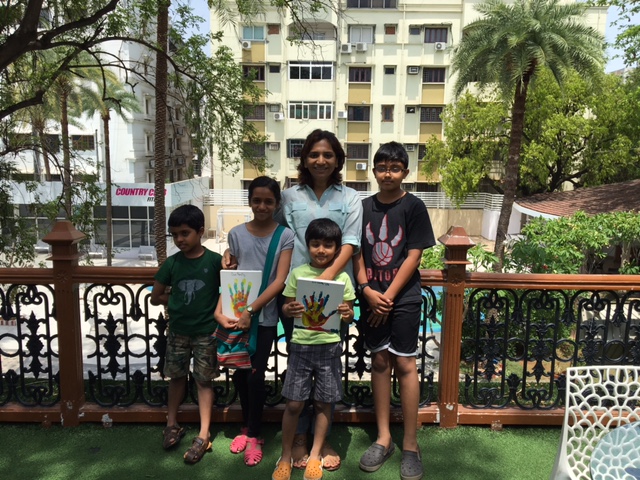 The kids had fun painting and learnt to express and handle their emotions and stress in a productive way using different forms of art and play therapy.
The last session included both the kids and their parents.  The parents participated enthusiastically with the kids and enjoyed doing different activities with their kids as a family. The program ended on a high note with the kids being eager to come back next summer to experience another workshop filled with excitement and exuberance.
Here is all the fun in motion!
NOTE: This post is written by our in-house counseling Intern.