The next session starts on 7th May 2018 to 1st June 2018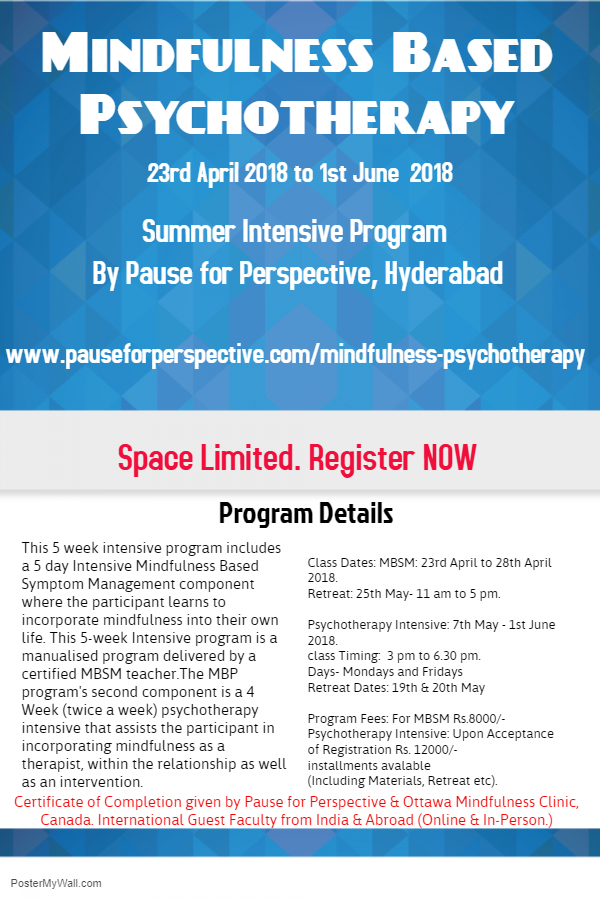 Background
Mindfulness has gained significant popularity as a contemporary psychotherapy modality in the last ten years. Mindfulness offers a refreshing new insight into psychological problems, how they manifest and how they can be alleviated. The use of mindfulness based interventions and the research base around these interventions have grown exponentially. Programs like Mindfulness-Based Stress Reduction, Mindfulness-Based Cognitive Therapy, Acceptance and Commitment Therapy and Dialectical Behavior therapy have strong empirically validated findings for conditions like Depression, Anxiety, Stress, Chronic Pain, Cancer, Eating Disorders and more.
Mindfulness is a key ingredient in psychotherapy. Clinicians who practice mindfulness have found to derive deep success and enjoyment in the therapy process. Mindfulness informed therapy includes formal and informal practices of mindfulness that enhance the therapy relationship as well as the lives of clients.
Program Overview
Given the growing interest among psychotherapists of all theoretical orientations, this 14 week program will explore the integration of mindfulness in psychotherapy. Therapists will learn to assess clients' appropriateness for Mindfulness Based Psychotherapy (MBP), formulate a treatment plan in collaboration with the client based on MBP, incorporate mindfulness into their existing modality of counselling, and learn practices to incorporate mindfulness into their own daily life to enhance one's own practice, relationship with patients, and treatment for patients.
The main emphasis of the program entails understanding mindfulness by cultivating a personal mindfulness practice, learning about current mindfulness research, integrating mindfulness into one's own everyday practice as a therapist, learning to enhance the therapeutic relationship with the use of mindfulness, and finally, learning about and integrating mindfulness into one-on-one and group counselling practice with a variety of clinical conditions.
In all, the program consists of 30+ hours of faculty/class contact along with case conference and consultation, and three days of retreat based practice,. The program heavily relies on reading & practice of mindfulness outside of class time and focuses on incorporating mindfulness in psychotherapy.
Class Structure:
The program will be divided into the following components:
5 Day Intensive Mindfulness Based Symptom Management (MBSM) Training: This part of the training entails introducing the therapist to mindfulness. The 5 Day Intensive MBSM training program is based on the one offered at the Ottawa Mindfulness Clinic, Canada. The program will take participants through the different practices of mindfulness as practiced in several mindfulness based intervention programs. The program is the base on which the psychotherapy component is built. To read more about the program go here.
Weekend Retreat Based Practice: This retreat is day-long and will begin at 11:00am and end at 5:00pm and will be led after the fourth week of class.
Upon completion of the above two components:

5-Week Psychotherapy Intensive, entailing:

Readings and discussion on the mindfulness and psychotherapy curriculum
Role-plays
Case conference

Weekend Retreat Based Practice
The curriculum of the 5-week psychotherapy intensive is as follows:
What is Mindfulness and how is it applicable to clinical work?

Mindfulness
The roles of mindfulness

The Mindful Therapist

Do therapists benefit from mindfulness training?
Bringing mindfulness into the consulting room

Cultivating Mindfulness in the Therapeutic Relationship

Deepening therapeutic practice
Getting out of the way
Not knowing
Relational mindfulness
Practical ethics

Mindfulness Informed Therapy

Some skills that culminate out of one's own personal practice

Mindfulness Based Psychotherapy

Teaching mindfulness in therapy
Concentration practices
Open Monitoring practices
Loving-Kindness and Compassion practices
Equanimity practice

Mindfulness with Various Clinical Populations and Disorders

Depression
Anxiety
Psychophysiological disorders
Trauma
Addiction
Couples
Eating disorders
Working with Children

Mindfulness Based Interventions for Mental Health & Physical Health
Mechanisms of Mindfulness & Neurobiology of Mindfulness
Class materials and readings will be provided. Participants are expected to complete the 8-week  Mindfulness Based Symptom Management Program and continue to practice mindfulness in order to finish the 8-week psychotherapy intensive. This helps gain a deeper understanding of the use and practice of mindfulness.
Who should attend
Counselors, Psychologists, Psychiatrists, Social Workers, Marriage and Family Therapists, Life Coaches, and other Mental Health Professionals as well as students in Psychology. Preference will be given to those who are currently in practice, are keen on seeing clients, and who wish to deepen their understanding of mindfulness and its clinical applications.
Two spaces for interns with a Masters in Psychology are available. These interns will learn to practice and see clients at Pause for Perspective and also work as Teaching Assistants in the program.
Program Fee:
This summer intensive training including materials, refreshments and lunch on retreat days, transport to and fro (a mid point) on retreat days, case conference, supervision: Rs. 20,000/- only.
Installment plan is available
Cancellation & Refund Policy
Refunds of the balance of tuition is not granted once the program begins.
Admission Requirements
Experience as a mental health clinician or other professional care giver or Masters student in Psychology.
This course involves a strong experiential component in the form of developing and continuing a daily personal mindfulness practice.
Applicants will be screened for admission by Pause for Perspective
Certification
A certificate of Participation will be offered by the Ottawa Mindfulness Clinic & Pause for Perspective.
Program Details
Classes will be held at Pause for Perspective in Begumpet, Hyderabad.
Faculty in the Program: 
MAIN FACULTY: Aarathi Selvan NCC(USA) MPhil(ClPsy): Aarathi Selvan is a Clinical Psychologist at Pause for Perspective, her private practice and Mindfulness center. She is also a National Certified Counselor in the USA. Aarathi has worked in several roles including working as the head psychologist at a Nutrition Coaching company called Truweight. She has also consulted with hospitals like Pace. She has led workshops on Mindfulness across the city of Hyderabad including institutes like IIT Hyderabad, Bank of America, Glendale Academy and more. Aarathi is also on the board of the Post Graduate Diploma Program in Counseling Skills at St. Francis Degree College. She completed her training in Mindfulness Based Symptom Management program under the supervision of Dr. Lynette Monteiro. She has led over 10 MBSM programs in Hyderabad. She is currently leading the Mindfulness Based Psychotherapy program under the consultation and supervision of Dr.Lynette Monteiro.
SUPERVISOR/MENTOR & FACULTY (Faculty present via video conference):Lynette Monteiro PhD: Dr. Lynette Monteiro is a psychologist in private practice, Clinical Professor (University of Ottawa), and co-founder of the Ottawa Mindfulness Clinic (OMC). She is trained in MBSR, MBCT, MiCBT, Buddhist Chaplaincy, and is a Trained Teacher of Mindful Self Compassion. As Training Director for the Professional Training Program at the OMC and a Clinical Supervisor for doctoral candidates of the School of Psychology at the University of Ottawa, Lynette has developed a comprehensive training program for professional training in Mindfulness Interventions. With her partner, Dr. Frank Musten, she developed the Mindfulness program at the OMC to directly address suffering as an incongruence between who we are and who we wish to be. Focusing on values which are the base upon which mindfulness rests, a framework of values guides the heart of mindfulness skills for wellbeing.