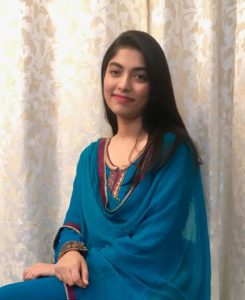 Syeda Rafath Unnisa is a certified counsellor at Pause for Perspective. She completed her Masters in Applied Psychology with a specialisation in Counselling. She also did her Bachelors in Psychology which gives her a background of five years in this field.
In these five years, she undertook various workshops and internship programs which provides her with a wide range of exposure in practical settings including hospitals, psychiatric clinics, schools and counselling organisations. She undertook workshops on various therapeutic modalities including Transactional Analysis, RECBT, Alternate Therapies (Energy Medicine), Mindfulness, Narrative Therapy and MBTI. Apart from this, she also facilitated a number of workshops for mental health awareness and wholesome living to a diverse group of individuals including women, students and organisational set ups. She also worked with Shaheen Women's Resource and Welfare Association reaching out to young girls and women in the underprivileged corners of the city.
She works predominantly from a person-centered approach, blending it with elements from Mindfulness-based psychotherapy, Acceptance and Commitment Therapy, Solution-Focused Brief Therapy and Cognitive Behavioural Therapy. Her main focus is providing one-on-one counselling services to those in need with a main objective of client's well-being and welfare, simultaneously working on her personal growth. She has an experience of working with clients with depression, anxiety, alcohol dependence and addiction, relationship problems, unemployment issues, self-confidence and self-esteem problems.
The basic premise of therapy for me is genuineness and compassion. In Roger's own words, 'It is the client who knows what hurts, what direction to go, what problems are crucial, what experiences have been deeply buried' and as a therapist, I would just like to be present for them in their healing process and provide a relationship that will allow them to heal and grow.
Agreeing yet again with Rogers, 'People are just as wonderful as sunsets if you let them be. When I look at a sunset, I don't find myself saying, "Soften the orange a bit on the right hand corner." I don't try to control a sunset. I watch with awe as it unfolds.'
For Client Feedback click here
To make an appointment you can can share your phone number, email and a brief description of your concerns in the form below and we'll get back to you. You can also contact us at 9490708947, 8106864001, 7032562301