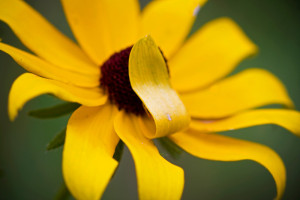 I remember an incident from my childhood. Dressed in a yellow frock with frills, I sat in the living room of my house when people from my extended family visited. Not one word did I utter. I smiled at them in a meaning of greeting. I nodded to answer a question. Vertically for yes and horizontally for no.
Years passed by. Through the years, I learnt to talk only when the need arose. To ask for directions, enquire about stuff in a grocery store, talk to a customer care executive or things like that. As a teenager I wished a mirror was placed right in front of me. So, that I could see myself while I nodded and smiled. My heart pounded away as I spoke.
For years together I went over and over in my head, everyday, about any significant conversation I had that day. I agonized for days together of how I could've said something more intelligent. And I was burdened by the embarrassment of me sounding silly for years together later on.
I waited to be rescued…. Later I knew it is only me who could rescue me.
Shyness can come in various degrees. It could be mild social awkwardness to social phobia.
Any degree you may belong to, here are Six simple things to do, to win the battle and overcome shyness:
Identify your triggers: Not all situations can cause shyness. I was not shy with my family and my only best friend. Sounding unintelligent and being judged brought about my shyness. That was a red flag which went up to indicate low self esteem. Identify what caused you to feel the way you feel.Work on the problem. I had worked on improving my self worth.
Understand your personality: Often, in the fray to overcome shyness I started to imitate a popular girl at school or college, which of course backfired and left me exhausted at the end of the day with hardly any results. Understand that you are you. Neither can you be them nor can they be you.
You are the center of your own universe: Stop looking at yourself from outside. What does he think about me? Would they all think I'm stupid if I say something? STOP with all those questions. Nobody is going to think of you day in and day out. People have their own problems and they are the center of their own universes. Rather look from the inside. What do I want? How do I feel? How to better myself? How to live a life without the fears?
Practice breaking the habit of shyness: Get your closest friend or family member to help you. Rehearse those social situations. Stand in front of the mirror and say positive things to yourself. Do it every day. One day you will really mean what you say. Work on your posture. Work on communication. Break the jinx.
What to do in the "situation"?: In an uncomfortable situation. Take a deep breath and relieve all the built up stress. Loosen up. Tell yourself what you need to. I said myself things like…. It's just one life and if you don't enjoy the moment, it's gone forever.Twenty years down the line nobody remembers a thing. Start talking. Smile at people. Don't be consumed by the voice inside your head which asks you to put on your running shoes to run home. Listen to people. Show them the real person you are.
Once you get a hang of things. Meet as many people as you like. Attend as many gatherings as you can.
And in all glory you will stand a winner. Yay!!!
   NOTE: This is a Guest Post by our inhouse Psychology Intern