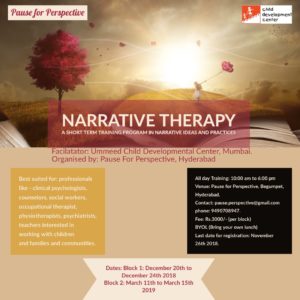 A short term training program in narrative ideas and practices. The focus of the program is to explore richly the ideas and practices of the narrative approach to working with individuals, families, groups and communities. Our teachings hope to reflect an approach which is interactive, collaborative, encouraging, rigorous, enjoyable and practice based.
The course program includes:
1. Understanding and exploring the narrative metaphor and guiding principles of narrative therapy.
2. Skill development of micro-maps of narrative practice, specifically externalising, reauthoring, remembering and outsider witness practices as described by Michael White and related to work in a variety of contexts and settings.
3. Collaborative learning and practice.
4. A supportive teaching environment enhanced by regular peer meetings with a focus on practice and supporting each other's learning between the two blocks.
Pedagogy will include lectures, reviewing stories of therapeutic conversations,transcripts, therapeutic letters,small group conversations,activities and interviews.
Dates: Block 1 – Dec 20 – 24
Block 2 – Mar 11-15
Timings: 10:00am to 6:00pm.
BYOL(Bring your own lunch)
Fee: Rs. 3000/- per block
Last date of registration: Nov 26,2018.
Facilitator: Ummeed Child Development Centre, Mumbai
Best suited for: professionals like clinical psychologists, counselors, social workers, occupational therapist, physiotherapist, psychiatrist, teachers interested in working with children, and families and communities.