PFP's Centre for Mindful Living presents Kintsugi circles- a space for people to share their know-hows and creative abilities that help them find joy, care and beauty in life. Similar to the Japanese art of healing and celebrating the broken with gold, this will be a space for people to share their acts of kintsugi with others. We will be collaborating with individuals and groups who are actively engaged with activities that enrich their mental well being, so that these know how's can be shared with a larger community.
Second  Kintsugi circle-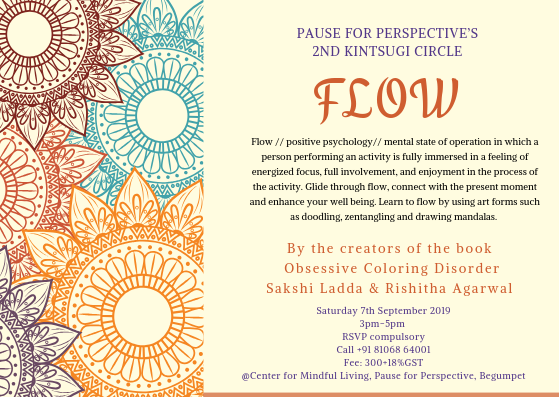 FLOW
Flow // In positive psychology, a flow state, also known colloquially as being in the zone, is the mental state of operation in which a person performing an activity is fully immersed in a feeling of energized focus, full involvement, and enjoyment in the process of the activity.
According to us, flow is one of the most ignored states of being, it is important to lose yourself in the moment; when you find your abilities are well matched to an activity, the world around you quietens and you may find yourself achieving things you only dreamt to be possible.
Feel free to join us celebrating, interacting and gliding through what FLOW means to you, incorporating art forms just depicting the same: doodle art, mandalas, zentangle patterns.
Inclusive of all materials and refreshments.
By the creators of the book Obsessive Coloring Disorder!
For further info contact: 8106864001