Make an appointment now:
Call 9490708947. 
The clients I see include:
Couples in marital distress, struggling with infertility issues, infidelity, parenting challenges and more.
Women who desire to own their voices, become aware of their desires, passions and intentions and live in consonance with it.
Gay, Lesbian, Bisexual, Transgender, and Queer individuals grappling with their identity and finding ways to embrace themselves.
Women who are dealing with weight issues and want to achieve optimal health and healthy body image.
New mothers coming to terms with post partum depression, and with motherhood in general and are trying to balance work and personal life.
Individuals undergoing depression, anxiety or have thoughts of suicide and desire to overcome their states of being.
Children in distressed homes, or children who are experiencing trauma and stress.
Individuals undergoing stress and would like to live more calmly and peacefully.
Children desiring better ways to study and excel in school, children experiencing anxiety, ADHD, low self-esteem, low self-confidence, aggression and anger.
Children experiences parents' divorce, separation and remarriage.
Premarital counseling for couples wishing to move into a joyful marriage.
Individuals struggling with difficult break ups, divorce, unresolved grief, and abuse/trauma.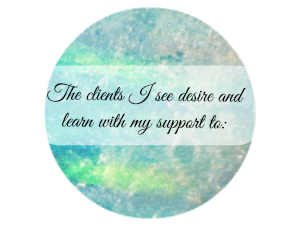 Live intentionally in their everyday lives.
Identify the roadblocks to being successful in work and in their personal life and make changes to mirror their inner most hope for themselves.
Understand the unwanted and subconscious patterns of interactions with their loved ones that lead to difficulties in relationships and step out of the patterns of unwanted behaviors in order to live harmoniously.
Overcome difficult emotions.
Sustain a healthy sense of self and self confidence.
For Clients with Anxiety, Depression, Trauma and Stress from relationships, work and other responsibilities I strongly recommend the 8 week Mindfulness Based Stress and Symptom Management program. Please request for a Mindfulness Based Intervention evaluation when you call to make an appointment.
To learn more about Mindfulness and its Benefits for individuals with Depression and Anxiety click here
For Clients in India
Individual appointments are Rs 1500/- per hour. (A session is an 1hr 15mins long).
Couples and Family Counseling sessions are Rs2500/-per hour and 30 minutes.
Skype and Telephonic sessions are typically only for individual appointments and the charges are the same as above.
For Clients Overseas
Appointments will be made for skype or telephonic sessions. Please contact me for session charges.
Counseling Procedure: What to expect before your first in-person or face-to-face appointment
After you make an appointment to see the clinician, our intake worker/co-therapist will call you. This is a first contact with the therapist. The intake worker/co-therapist will complete a first telephone intake with you to get a birds-eye view of what is going on. This will also be an opportunity to see if you connect with your intake worker/co-therapist and also an opportunity for us to be open and prepared for you.
Your appointment will be with me (Clinical Psychologist & Founder Pause for Perspective) & the Co-therapist who completed your intake.
Your first as well as subsequent sessions with be co-therapy sessions. We believe that two minds are better than one at helping our clients work with what is going on.
If you wish to only see one of us please let us know.
Make an appointment now:
Call 9490708947. 
My Office:
Pause for Perspective
G-4 (Ground Floor), East Face Homes,
Kundan Bagh, Near St. Francis Degree College,
Begumpet, Hyderabad. 500016.
Feedback taken with permission: (For more reviews click here)
Want to  know what to expect in counseling? Click here.