M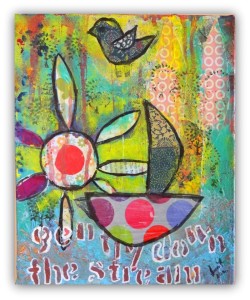 indfulness Based Art (formerly Creative Journaling)  is a practice of uncovering deeper aspects of yourself with the use of art, writing, collaging and poetry.
We offer Individual Sessions (Eight Week Program) and also small group sessions.
In each session or class:
Learn to paint and journal
Learn new techniques and explore different aspects of yourself
Process is the emphasis of this Program NOT the Product. The focus is on what feels good for you rather than what someone else expects from you. Through the process of creating your journal page you will unravel your personal story, emotions and process.
Using texture, color, line, Patterns, marks, collage, layers and words you will also uncover and play with this inner narrative.
In Mindfulness Based Art Sessions we guide you to explore different themes (such as creativity, happiness, trust, inner critic, confidence and more ) and bring awareness to body, emotions, sensations and thoughts, through a variety of art journaling techniques  (such as columned technique, slow drawing, contour painting, and more) every week.
This is a great space for those who want to explore and express by themselves. It is for those who feel a yearning to use art to express and feel that the current way of life doesn't allow for a full expression of who they really want to be.
How to get started?
You will need to set up a first session with Aarathi for an hour. This will entail an assessment of where you are in your life and what your goals are for yourself and for your art sessions. Upon this evaluation a customised 8-week program will be shared with you.
To set up an appointment call: 9490708947 or write to aarathi (at)pauseforperspective(dot)com.
Individual Coaching Sessions:
Address: 104, Olbee Center, Somajiguda, Hyderabad. 500082
Open for those above Age of 16+
Email us on aarathi (at)pauseforperspective(dot)com for further details.
To know more about what Mindfulness Based Art (Creative Journaling) is check out this video below:

Have more questions check out our FAQs here.
Come join us …. Explore yourself…. Explore Art !!